Face2Gene
,
Genomics
,
Phenotyping
,
Rare Diseases
Lissencephalies and Other Brain Malformations
FDNA collaborated with the American Brain Foundation, sponsored by Fabric Genomics, to promote awareness of Lissencephalies and other brain malformations throughout the month of August as part of FDNA's Year Of Discovery.
About Baraitser-Winter Syndrome
Baraitser-Winter Syndrome is an incredibly rare disease with less than 50 cases reported in medical literature. The development of several areas of the body is impaired in individuals affected with this genetic disease. Some of the more substantial characteristics of this condition are facial malformations as well as abnormalities in the growth and structure of the brain. Some features of this syndrome include:
developmental delay
intellectual disabilities
hearing loss
seizures
Below is a brief video of Baraitser-Winter Syndrome highlighting a few of the key features.
Information and Resources
Information on this syndrome is staggeringly limited, though much can be found in summaries or fact sheets written by foundations or advocacy groups. Although the number of published resources is relatively small, a handful of medical articles and research can be located on PubMed for a brief overview of the syndrome.
Syndromes Now Recognized by Face2Gene
Engagement and contributions of clinicians and researchers has enabled Face2Gene to learn valuable information on the clinical presentation of many rare diseases such as Baraitser-Winter syndrome. For example, thanks to the collection of many facial images of patients diagnosed with this syndrome, we have been able to create and validate a model for the facial patterns that are common among these individuals.
Due to the contributions from the Face2Gene community, the volume of de-identified data (photos, phenotypes and other patient information) uploaded to Face2Gene enabled the successful facial recognition and identification of many rare genetic conditions, including the following selection of Lissencephalies and brain malformations: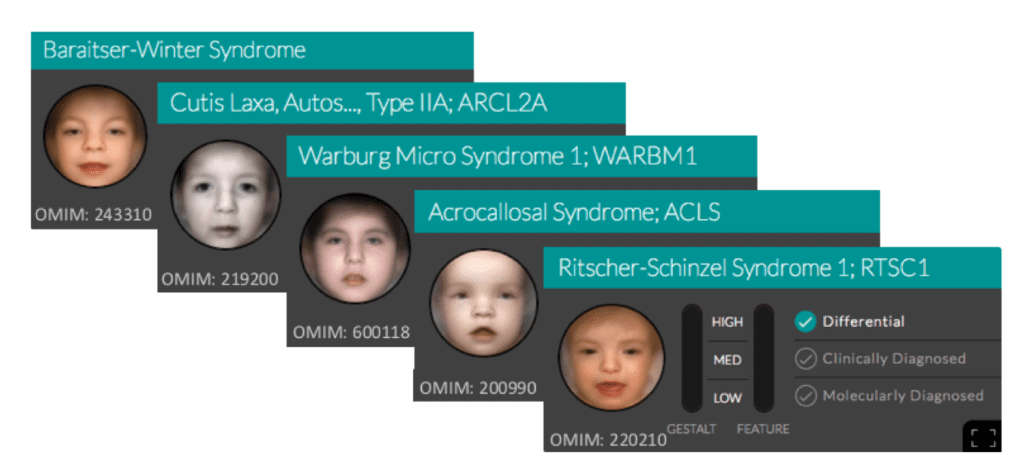 The above, along with myriad other syndromes, are available for patient evaluations via Face2Gene CLINIC.