Technology
Boston-based health and tech start-up calls on patients and clinicians to share their stories to help make new discoveries needed to diagnose and treat rare genetic diseases.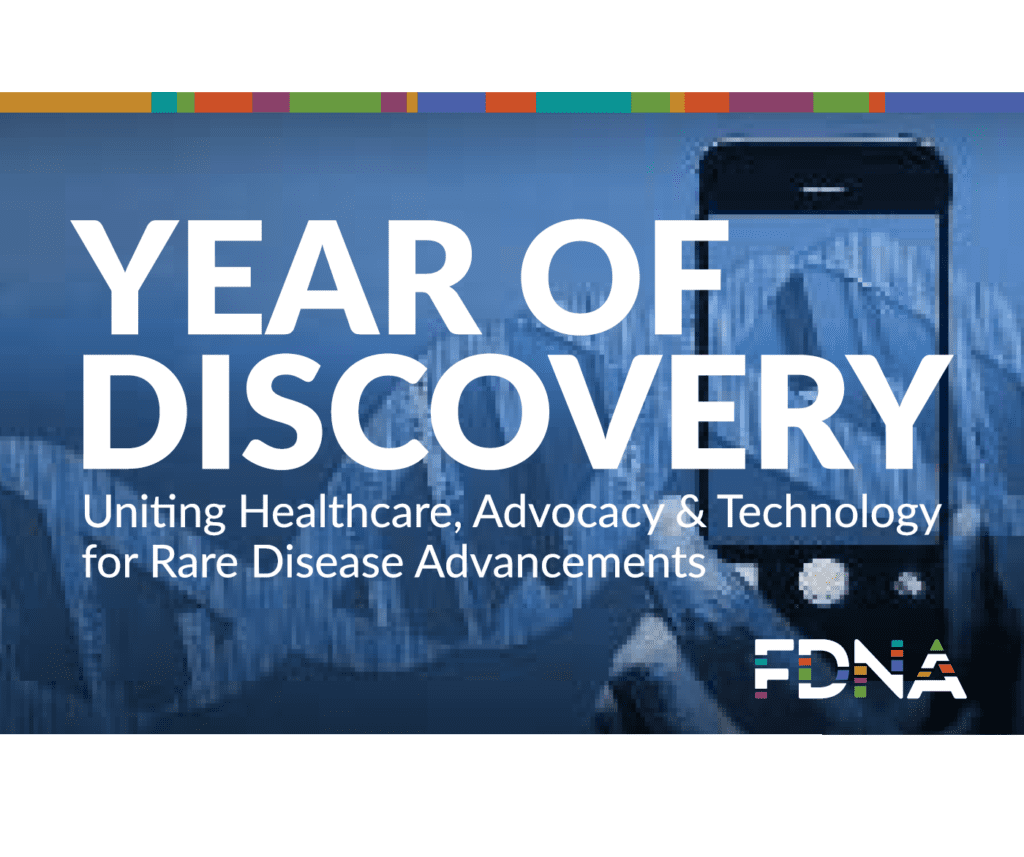 Beginning in March, the 2017 Year of Discovery initiative was created to unite clinicians, labs and patients worldwide to make rare disease discoveries, with a special focus on specific rare disease categories each month. Doctors from across the world were invited to participate in the large-scale collaboration.
The initiative was designed to create the world's largest source of rare disease "big" data. With the help of artificial intelligence, cases submitted during the Year Of Discovery were analyzed to make new breakthroughs and to train the Face2Gene technology to recognize the facial phenotypes and genetics associated with rare diseases. These results are being made available to clinicians and researchers everywhere to more efficiently diagnose rare diseases.
"Our goal was to make these rare conditions more recognizable to physicians during the diagnostic evaluation," said CEO of FDNA, Dekel Gelbman. "With the assistance of the entire patient, advocacy and medical community we were able to collect a profound amount of data that will help change the lives of undiagnosed patients."
Below are some examples of what we discovered in 2017.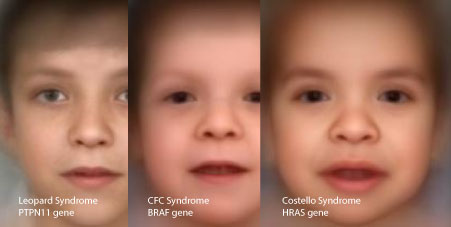 March brought about a look into RASopathies, thanks to a partnership with Blueprint Genetics and the Noonan Syndrome Foundation. Conditions such as Costello Syndrome, Leopard Syndrome, and Noonan Syndrome were studied to improve understanding. Results: Noonan, Costello, CFC…>
In May, Blueprint Genetics sponsored a collaboration between FDNA and the National MPS Society to learn more about metabolic and lysosomal storage disorders. As a result, Face2Gene was able to improve its recognition of conditions like Sanfilippo Syndrome B (Mucopolysaccharidosis Type IIIB). Results: Sanfilippo Type B…>
Prevention Genetics sponsored a $1 charitable donation each time a patient case was uploaded during the month of June, to the benefit of Bardet Beidl Syndrome Foundation. The foundation provides a supportive community for individuals and their families, information about the condition, and promotes science and research to improve the lives of these patients. Results: CHARGE…>
GeneDX sponsored our July month of discovery to learn more about Congenital Heart Defect Syndromes, Aortopathies and other inherited heart conditions with the help of the Children's Heart Foundation. We put the spotlight on Marfan Syndrome, a condition known for features like arachnodactyly, abnormalities of the heart and the aorta, hyperflexible joints, long narrow face, and long bone overgrowth. Results: Marfan…>
August found us investigating lissencephalies and other brain malformation through a sponsorship from Fabric Genomics and a partnership with the American Brain Foundation. We learned more about Baraitser-Winter Syndrome and its key identifiers like developmental delay, intellectual disabilities, hearing loss, and seizures. Some other conditions we explored were Baraitser-Winter Syndrome, Cutis Laxa (Type IIA; ARCL2a), Warburg Mirco Syndrome 1 (WARBM1), Acrorcallosal Syndrome (ACLS) and Ritscher-Schinzel Syndrome. Results: Baraitser-Winter…>
The World Craniofacial Foundation teamed up with FDNA in September, in a collaboration sponsored by Blueprint Genetics to promote awareness of Craniosynostoses and other craniofacial conditions. With a high prevalence of one in every 10,000 children born with a craniofacial malformation, it was vital that we better understand this category of disease. As a result of this month's efforts, we were able to get a deeper insight into Apert Syndrome, Crouzon Syndrome, Muenke Syndrome, Crouzon Syndrome with Acanthosis, and Saethre-Chotzen Syndrome. Results: Apert, Couzon, Muenke…>
October found us exploring the world of Skeletal Dysplasias through Little People of America and a sponsorship by EGL Genetics. Face2Gene was able to recognize conditions like Diastrophic Dysplasia, Kniest Dysplasia, Cleidocranial Dysplasia, and Achondroplasia. Results: Achondroplasia, Cleidocranial Dysplasia…>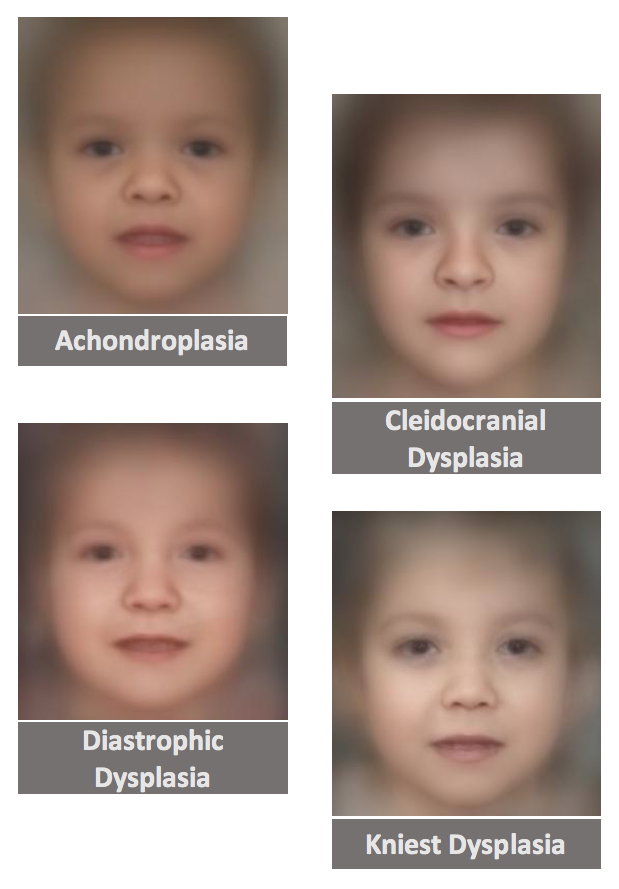 In November, FDNA partnered up with C.U.R.E: Citizens United for Research in Epilepsy, sponsored by Allele Diagnostics, to research and promote awareness of seizure and epilepsy-related conditions. Some conditions Face2Gene became better versed on included Wolf-Hirschhorn Syndrome, Epileptic Encephalopathy, Early Infantile (6), Angelman Syndrome, Sturge-Weber Syndrome, Rett Syndrome and Coffin-Lowry Syndrome. Results: Angelman, Wolf-Hirschhorn, Rett…>
This December we highlighted skin disorders through the National Foundation for Ectodermal Dysplasias (NFED.) We took a look at the lives of Dexter and the Critchell family to learn more about Odontoonchodermal Dysplasia (OODD) and how a trip to the pediatric dentist revealed a rare, genetic condition. GeneDx sponsored this month, making a generous donation to the NFED.
Today, 30 million people in the United States are living with a rare disease. Each case added thanks to the Year of Discovery initiative provided invaluable information that will improve the overall understanding of rare diseases, affecting the lives of millions every day.
*All donations are provided directly by the participating sponsor in such month and at its sole responsibility. Amounts may be capped at a maximum in each month, at the participating sponsor's sole discretion.
About Face2Gene and FDNA
Face2Gene is a clinical warehouse platform with a suite of phenotyping applications that facilitates comprehensive and precise genetic evaluations. FDNA uses facial analysis, deep learning and artificial intelligence to transform big data into actionable genomic insights to improve and accelerate diagnostics and therapeutics. With the world's largest network of clinicians, labs and researchers creating one of the fastest growing and most comprehensive genomic databases, FDNA is changing the lives of rare disease patients. For more information, please visit www.fdna.com.