Diagnostic odyssey
"When you know, when it has a name, even if it doesn't have a cure, you can find a new family"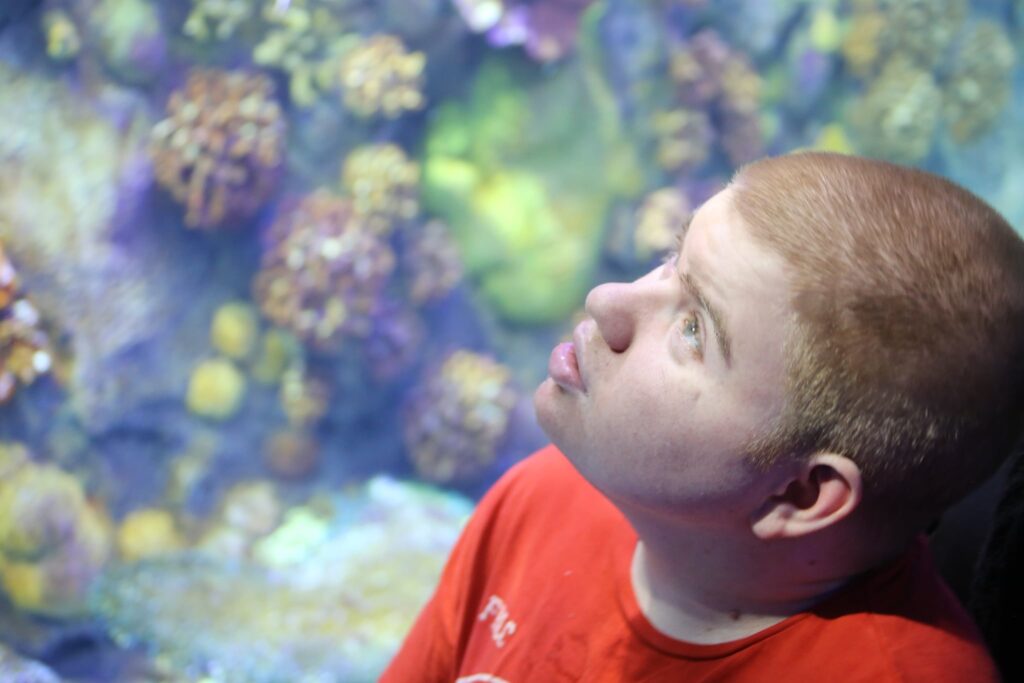 Now a young adult, it took 10 years for Bug to be diagnosed, when a simple photo in Face2Gene could have pointed  his doctor  to the right diagnosis
When Glenn "Bug" Maughan was diagnosed with KBG Syndrome in 2015 at the age of 12, that diagnosis was one answer to so many questions his parents, Annette and Glenn, had been asking for years: Why is he having so many seizures? Why is his gait so unusual? Can he hear us? Why did he start to lose some of the early skills he had gained already?
"Early diagnosis would have helped us so much," Bug's mother, Annette Maughan, says.
Bug, now a loving young man with three younger siblings who continues to make progress, had his first seizure at age 3, followed by another one four months later. It was the beginning of countless seizures that would occur in the years to come.
"When he was younger, we were so focused on epilepsy," Annette says. Another doctor added autism to Bug's diagnoses when he was about 5. Yet, Bug's parents knew there was something else to uncover.
"In fact, when we saw a geneticist, he said Bug had physical markers of having a genetic anomaly, but he didn't look like it since he looked like his dad," she recalls, mostly because both of them had golden-red hair. It would be several more years before they could convince a doctor to order a whole exome sequence (WES).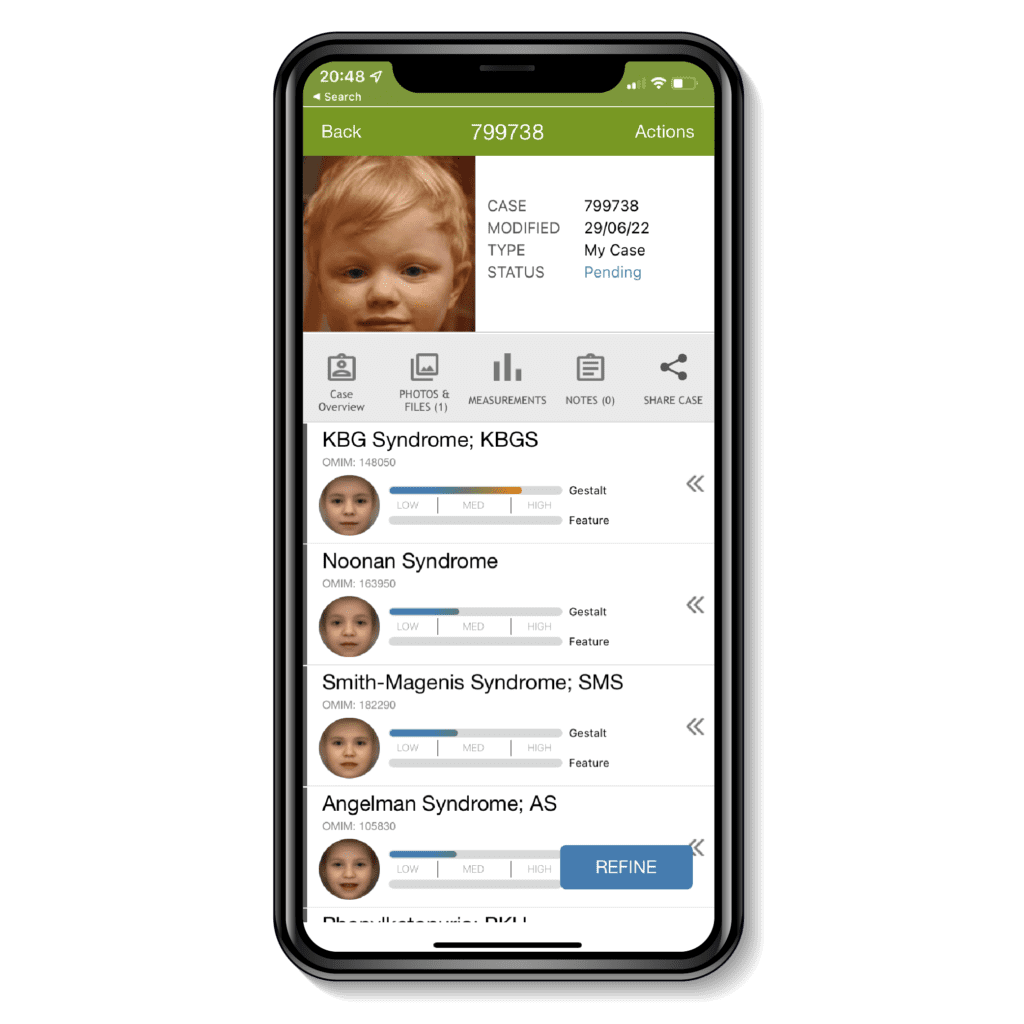 Bug's portrait when he was 3 years old on the Face2Gene app indicates high mark for KBG Syndrome
Through the WES, they finally got their answer: KBG Syndrome, one so rare, there were only about 60 known cases at the time. The syndrome is caused by a mutation of the ANKRD11 gene and is associated with a spectrum of challenges, including developmental delays, cognitive disabilities, behavioural disorders, autism, seizures, hearing loss, skeletal anomalies, heart complications and gastrointestinal problems.
"If doctors had a non-evasive tool to help them look earlier, so much would have been different", Annette says. If a doctor back then could have simply uploaded a photo of young Bug and matched his facial features against phenotypic data for rare diseases, the Maughans would likely have known much sooner what kinds of challenges he would potentially face in the future.
"We would have kept an eye on his ears. He had so many ear infections, but we didn't know it because of his high pain threshold," Annette says. " We would have watched for tethered cord. After he had surgery to release his tethered cord, it changed his life completely."
"Early diagnosis can change lives," Annette says, "not just the outcomes for the patient, but the outlook of the patient's loved ones."
"When we didn't have a diagnosis, we felt so isolated," Annette says. "When you have a child that is different and you don't have answers to give, and people look at you to ask more questions, all you can say is 'We don't know.' And then they leave."
When people know what they're dealing with, they can find others in similar situations. If there's a syndrome, there's probably a patient support group or organization. For Annette and Glenn, there was no KBG Syndrome organization when Bug was diagnosed, so they were the ones to start the KBG Foundation, a 501(c)(3) organization devoted to driving awareness and research, as well as providing education and support for families. The Foundation has a closed Facebook group for patients and their families to share their experiences and support one another. Within two weeks of starting the group, Annette received her first message from another parent. Within a year, she says, the group was able to confirm at least 70 more families with a member with a KBG diagnosis. Today, that Facebook group of patients and family members is more than 1,700 people strong.
"When you know, when it has a name, even if it doesn't have a cure, you can find a new family," Annette says. "And that helps you find a home."
About the KBG Foundation
The KBG Foundation is a 501(c)(3) nonprofit organization, dedicated to providing support, assisting in research programs and advocating to raise awareness about KBG Syndrome.


About KBG Syndrome
KBG Syndrome is a rare genetic disorder caused by a mutation on the ANKRD11 gene, associated with a spectrum of challenges, including developmental delays, cognitive disabilities, behavioral disorders, autism, seizures, hearing loss, skeletal anomalies, heart complications and gastrointestinal problems. Most people with KBG share at least some physical traits, including a triangular face, heavy eyebrows, curved fingers and spine, and short stature