Finding the Source of Disease
Genetic code is at the core of most human diseases—whether in-born genetic errors that cause cancer, autism or other rare diseases, or genetic pathways that affect biological functions.
---
The Unseen Dilemma
Every human has thousands of genetic variations and errors that may affect their health. Many of the diseases caused by these variations remain undiagnosed, or will not manifest until later in life.
---
An Interpretation Challenge
Despite next-generation sequencing (NGS), becoming more available and affordable, the odds of finding a diagnosis through use of these technologies is limited to approximately 25% due to difficulty in identifying which genetic variants are clinically relevant.
---
Limited Data Means Limited Opportunity
A person's genetics can predict what therapeutic approach is best for them; however, limited data linking gene variations to therapeutic success limits the scope of this precision medicine approach.
The Solution
FDNA is analyzing the world's most comprehensive database of clinically relevant genomic and phenotypic information, crowdsourced from clinicians, labs and researchers. This real-world data, along with FDNA's next-generation phenotyping (NGP) technologies, are solving the biggest problems in health.
Clinicians and labs can now detect physiological and biometric patterns that correlate to disease-causing genetic variations.
Researchers can now discover new clinical signs, symptoms and genes that can be used as disease-predicting biomarkers.
Drug developers can now access the data needed to develop, test and market precision medicines for patients globally.
Our Data
FDNA's database includes an unprecedented depth of phenotypic and genotypic information associated with over 10,000 diseases.
All of our data is crowdsourced from real-world patient cases through our broad network of clinical, lab and research users. The de-identified data from thousands of cases each month is collected using our smart phenotyping applications (Face2Gene Suite), stored in a private and secure cloud-based clinical data warehouse, and integrated to LIMS, EMR and variant interpretation systems through a set of open APIs.
Our Network
Our platform brings together a global network of clinical geneticists, the world's top molecular labs, and an integrated network of researchers and academia, specializing in rare diseases.
With users at more than 2,000 clinical sites globally, more than 65% of the clinical genetics market uses our platform as part of their routine workflow.
Our Technology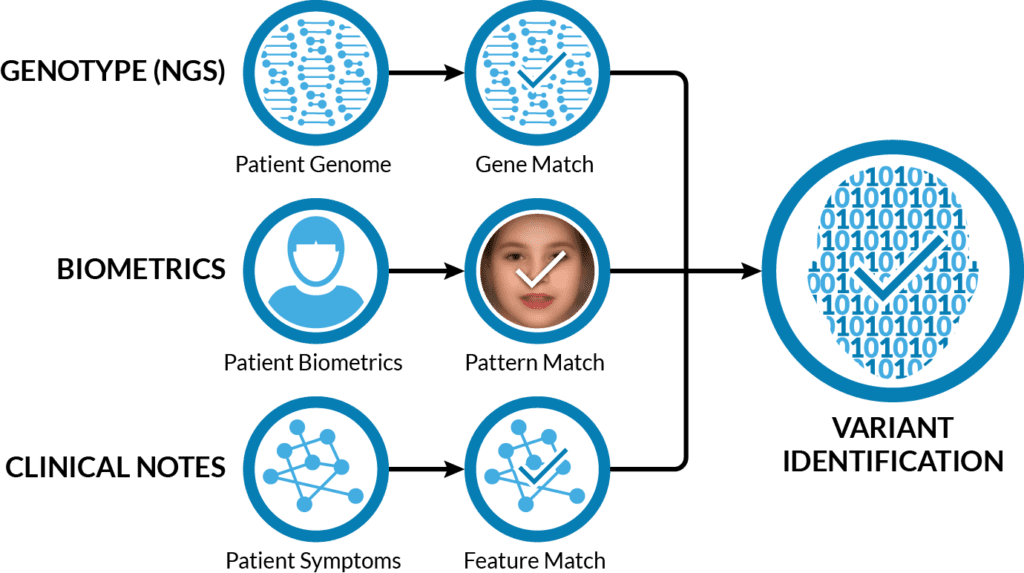 Our deep learning neural networks enable next-generation phenotyping (NGP) through analysis of photos, clinical features and genes using artificial intelligence algorithms.

This analysis of physiological patterns highlights correlated diseases and disease-causing genetic variants for healthcare providers to consider during patient evaluations. The comprehensive nature of the data collected supports using it to make disease discoveries, as well as using it to improve the interpretation of molecular test results.